Thermatras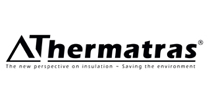 Thermatras® is a company which specialises in measuring, producing and installing thermal insulation in the form of durable insulation blankets. In 1992, Thermatras® became independent of Ajax Brandbeveiliging of Amsterdam.
Since the separation from Ajax, Thermatras® has grown into a close-knit team of about 35 experts and skilled employees with more than 40 years experience in the business of insulation.
Do you have enquiries or suggestions? Would you like to have/see samples or references?
Tel. +31 (0)180 46 29 22
sales@ditco.nl
For more information have a look at www.thermatras.nl